Our Policy Handbook and FAQs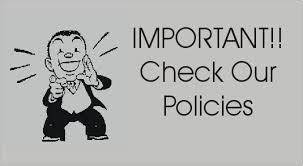 Click here to find a copy of Precious Playmates Daycare's Policy Handbook
FREQUENTLY ASKED QUESTIONS

Is Precious Playmates Daycare licensed?
YES! Precious Playmates Daycare is a Registered Daycare Ministry. We are required to meet standards set by the State of Indiana and the Indiana Family and Social Services Administration. The Indiana State Board of Health and the State Fire Marshal inspects us regularly to ensure the safety of your child.
When is Precious Playmates closed?
We are closed only on Christmas Eve and Christmas Day, New Years' Day, Thanksgiving Day and the day following, Memorial Day, Labor Day, and July 4th. From time to time inclement weather or unforseen problems arise that may force us to close. Please tune to our local radio station, 102.3, WCBK. We will also post information on our Precious Playmates Daycare facebook page. In the event of a closing, you will be responsible to find alternative care for your child.
What is you drop-off and pick-up Policy?
Our hours are 6am-6pm, Monday through Friday. When you bring your child to our daycare in the morning, you must sign the "Time In/Time Out Sheet" located near the door, and check your child in with one of our employees. The same procedure follows when you pick your child up at the end of the day.
What do I need to supply for my child while at Daycare?
Supplies your child will need include a small blanket for rest period, a change of clothes and diapers, if needed (we will supply the wet-wipes). All items need to be labeled with your child's name. Please do not send personal toys to daycare, as they may get lost or broken. Also, it is easier to teach children to share when the toys belong to the daycare and not the children.
Can I stop by or visit unannounced?
Precious Playmates has an "Open Door" policy. This means you are welcome anytime, no appointment necessary! We want you to be assured that your child is receiving the best and compassionate care in a Christian enviornment, without reservation. We encourage you to drop by!
How do I enroll my child at Precious Playmates?

Simply contact us! Schedule a tour of our top-notch facility, meet our staff, and fill out our required forms. We can be reached between the hours of 6am and 6pm, Monday through Friday at 765-342-2220.
For answers to more of your questions, please refer to the above policy manual